~ What´s about ~
Nishio got its start as a medieval castle town after the Sengoku Warring States period of the 15th century. In the following Edo period, records show it producing enough rice to feed sixty thousand people. To this day, Nishio boasts many temples and other culturally important historic sites, all easily accessible from Nishio Station. Please come for a visit, take a look at the castle, enjoy the beauty of the surrounding landscape, and explore the many local specialties of Nishio.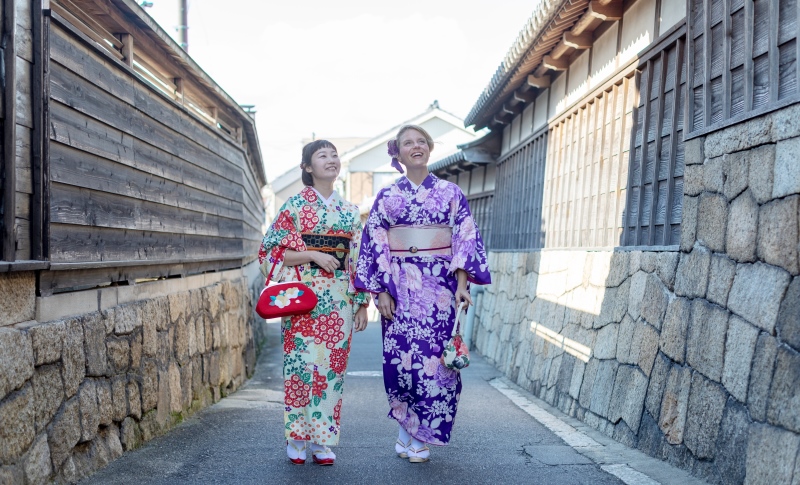 Little Kyoto "Nishio"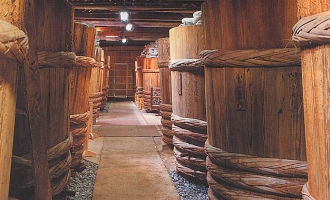 Hatoya (Miso Park)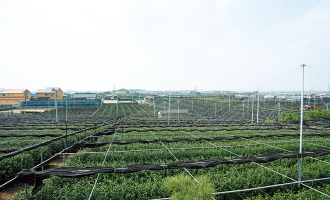 Inariyama Tea Garden Park
Sightseeing spots & tourist facilities in Nishio city
Little Kyoto "Nishio"

Tokugawa leyasu (the founder of the last shogunate in Japan) appointed one of his retainers as the lord of Nishio Castle in 1561 to rule Nishio, which prospered as a castle town yielding 60,000 koku of rice. Traditional arts and culture have always flourished and been passed down in Nishio even to this day at historic temples and sites, through traditional performing arts and festivals such as Daimyo Gyoretsu. Why not take a walk along the streets imagining yourself as a princess or samurai?

Nishio City History Park

Nishio was known as "the little Kyoto of Aichi", and Nishio Castle was its proud centerpiece. Today, the castle, gatehouse and many parts of its interior grounds have been restored, and entry is free. Come and get a feel for Japans regional history!
---
Nishio Municipal Museum

The Museum opened in August of 1977 on the Nishio Castle grounds. It has an extensive collection of items relating to local history and culture in the Edo Period. A site for research and study of ancient document through excavation, this museum offers a historical learning place for younger generations.

Shokoso

Shokoso is a Kyoto-style garden created by using the remnants of Nishio Castle's Higashinomaru at the beginning the Showa Period. This quaint garden includes an arbor on a hill with a full view of the garden and a beautiful dry landscape garden.
---
Former Konoe Residence

The former Konoe Residence (court noble Konoe's residence) conveys the culture of tea ceremony. It consists of two buildings: a tea house and a library. Both were relocated from Kyoto in 1995. Visitors can enjoy Matcha green tea and a view of the Japanese garden at the library (400 yen, including seasonal Japanese sweets).

Seiganji Temple (Soto sect)

This temple was founded when the 6th head of the Ogyu-Matsudaira clan, Lord Ienori built this temple to memorialize the spirits of his father and grandfather while at the Nawa castle at (Isesaki City), Kozuke Province. Along with the transfers of Lord Matsudaira, it has moved to various places such as Mino. When Norisuke became the 11th lord of Nishio Domain in Meiwa 1 (1764), the temple was moved from Dewa Province (present day Yamagata) to its present location. In addition to the tomb of Noriyasu Matsudaira, former lord of Nishio Domain, there is monument for Mizuko Takahashi, the third female doctor in Japan.
---
Iwase Bunko Library

Established as a private library in 1908 by businessman Yasuke Iwase, the library was reopened in April 2003 as the first antique book museum in Japan. Archives are open to the public and preserve around 80 thousand books from various time periods and genres, ranging from classic literature—some of which are designated as important cultural properties—to modern "how-to" books.

Ibun Jinja Shrine

Ibun Jinja is a very old shrine, founded sometime in the 9th century. The main deity enshrined here is Susano-o-no-Mikoto, a Shinto god of the sea and storms. It is also the guardian of Nishio Castle.
---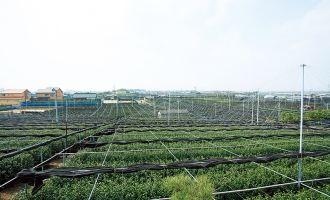 Inariyama Tea Garden Park
Nestled in rolling hills, with a panoramic view over an the tea gardens. In the tea harvest season in May, you can put on a traditional tea-harvest costume and even try picking tea leaves yourself.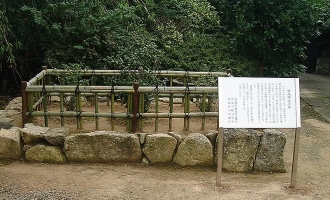 Kōjuin Temple
A temple of the Jodo sect, built as a chantry for an aunt of Tokugawa Ieyasu. It is also known as "Chaso Temple", because it promoted the spread of tea cultivation in Nishio.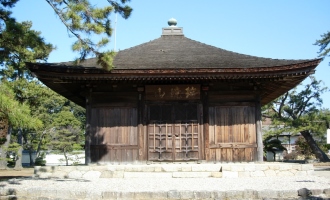 Jissōji Temple
The main Buddhist temple of medieval Kira, built under the local lord Kirazoro Saijo. Many cultural assets are preserved here.
---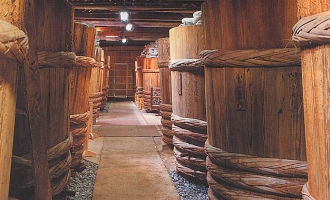 Hatoya (Miso Park)
"Miso Park" is a theme park where you can enjoy miso run by Hatoya. You can tour the miso brewery and experience various things. There are also shops that sell miso, soy sauce, and sweets.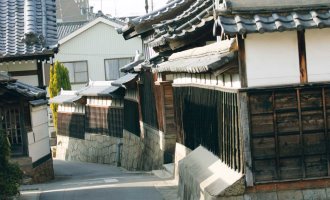 Junkaichō-dōri
The houses along this narrow street connecting Ten'nōmachi to Sakanamachi best preserve the atmosphere and appearance of the old castle town of Nishio.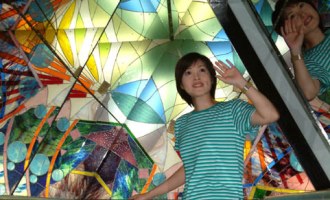 Mikawa Kogei Glass Museum
This is a sensation-type museum known for its original art, including the world's largest kaleidoscope certified by Guinness.
Do you not do eco-sightseeing in rental bicycle?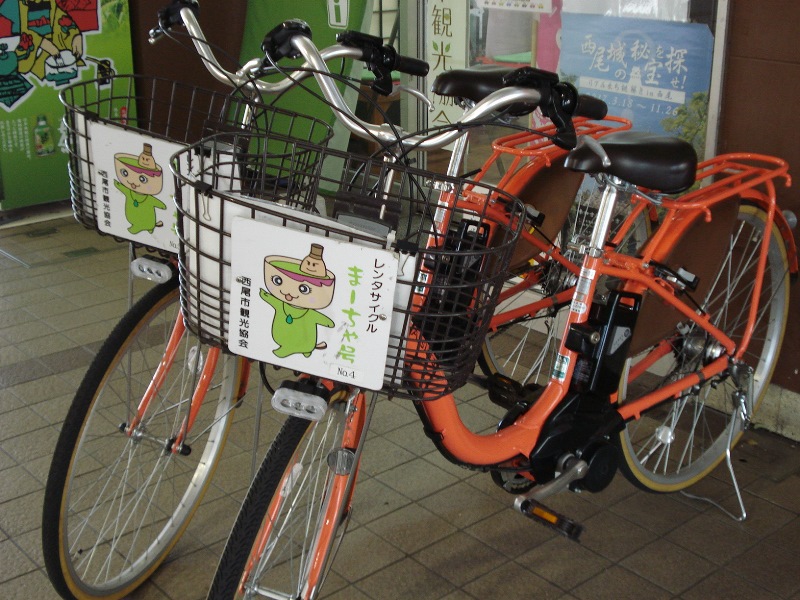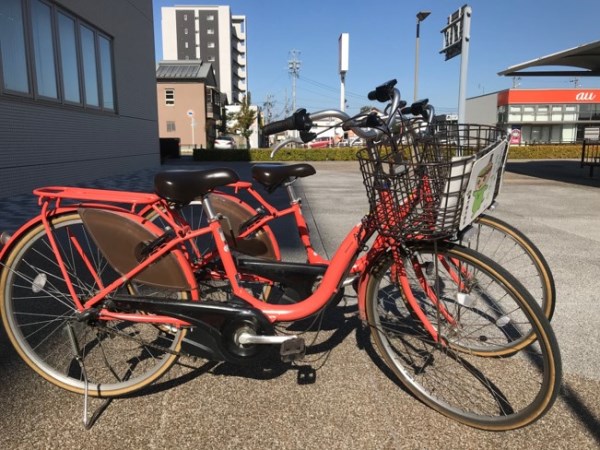 Why don't you go eco-tourism by renting a bicycle, starting from Meitetsu Nishio station?
Bicycles are available for rent at designated locations near stations.
There is a fee only for electric bicycles (at Nishio Station and Nishio Tourist Information Center).
---
Five Rules for Safe Cycling
① Cyclists should generally cycle on the road and only
 use sidewalks under exceptional circumstances.
② Cyclists should keep to the left side of the road.
③ On sidewalks, cyclists should give way to pedestrians and go slowly.
④ Observe the safety rules.
 ・It is prohibited to cycle under the influence of alcohol, ride with two people on one bicycle, or cycle two abreast.
 ・Use a light when cycling at night.
 ・Obey traffic lights and stop signs and check for safety at intersections.
⑤ Children under 13 years of age may not rent bicycles.
---
■ Rental Bicycle Usage Precautions (terms and conditions) ■
①Please do not share bicycles with others.
Lending or offering bicycles to a third party is prohibited.
②Be aware that leaving bicycles unattended may result in removal or theft.
Make sure bicycles are locked and parked in designated bicycle parking areas at each facility.
Please note that you will be responsible for any costs due to theft, damage, or removal of bicycles due to parking in undesignated areas.
③Bicycles can be used until 4:00pm.
Please return bicycles without exception on the same day of rental by 4:00pm to the location you rented it from.
In the case that the bicycle is not returned on time, you will be contacted by administration.
Please note that if you fail to respond, you may be held liable for the costs associated with locating and recovering the bicycle.
*You may be contacted if necessary in regards to the rental service.
④Rental fees are to be paid after use. (However, a payment guarantee of ¥500 (tax included) will be charged in advance. Charges will be settled upon return.)
The first 3 hours are ¥300 (tax included,) more than 3 hours is ¥500 (tax included.) Please indicate on the rental application form when you will start to use the bicycle.
A payment guarantee of ¥500 (tax included) will be charged in advance. Charges will be settled upon return. Thank you for your understanding.
⑤Regarding customer's responsibility for accidents
Any accidents which occur while you are using the rental bicycle shall be considered your own responsibility.
Please follow the five rules for safe cycling (see top of page) in addition to the rules of the road.
In the event of an accident, please promptly contact the police and the rental bicycle provider (see contact details below.)
⑥Regarding insurance (TS Mark insurance coverage/summary)
1. For the period during which the user uses the rental bicycle under the terms of this usage agreement, he or she is covered by insurance in accordance with the following conditions,and shall be provided with compensation for accidents incurred within the limitations described below.
(Damage resulting from willful or negligent conduct may not be covered.)
(1) Accident resulting in death or disability (maximum limit): ¥1,000,000; Hospitalization: ¥100,000
(However, in cases where death or disability occur within 180 days of the accident, hospitalization for a period of less than 15 days and outpatient treatment are exempt from coverage.)
*Insurance coverage is only active while the rental bicycle is in use. Compensation is provided for sudden and unexpected accidents.
(2) Maximum limit on compensation: ¥50,000,000; Property damage: not covered
*Insurance coverage is only active while the rental bicycle is in use.
2. Damages exceeding the compensation amounts above shall be covered by the user.
3. The user shall accept without objection that damages resulting from accidents not reported to the police or the office, as well as those occurring while the user is in violation of this contract, may be ineligible for compensation under damages insurance and/or our insurance program.
4. In addition to the provisions of Paragraph 3, if the conditions for exemption apply according to the terms of the insurance policy
(i.e. cases where the insurance company does not provide a payout), the compensation outlined in Paragraph 1 may not be available, and in such cases, the user is liable for full damage compensation.
5. This text serves only to provide a basic outline of compensation. While details may vary depending on the terms of your insurance policy, we suggest that you consult with your insurance provider for information about how to make an insurance claim.
*Using devices such as smartphones while cycling is prohibited.
*If your identity is unable to be confirmed, you will be unable to rent a bicycle.
*In some cases we may verify your cellphone number by calling it
---
Application Form for "Cycle Sharing" Use
Application Form for "Cycle Sharing" Use
---
Emergency contact
Nishio Tourist Information Office
TEL:0563-57-7840
Business hours:9:30am – 4:30pm
Nishio Police Station
TEL:0563-57-0110