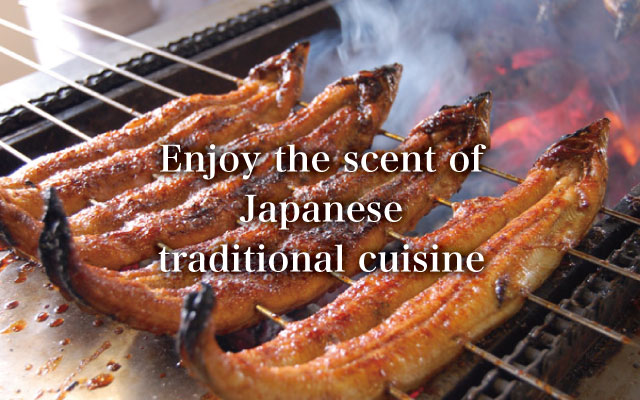 ---
Japan's Premium Quality Eel: Our local Isshiki Unagi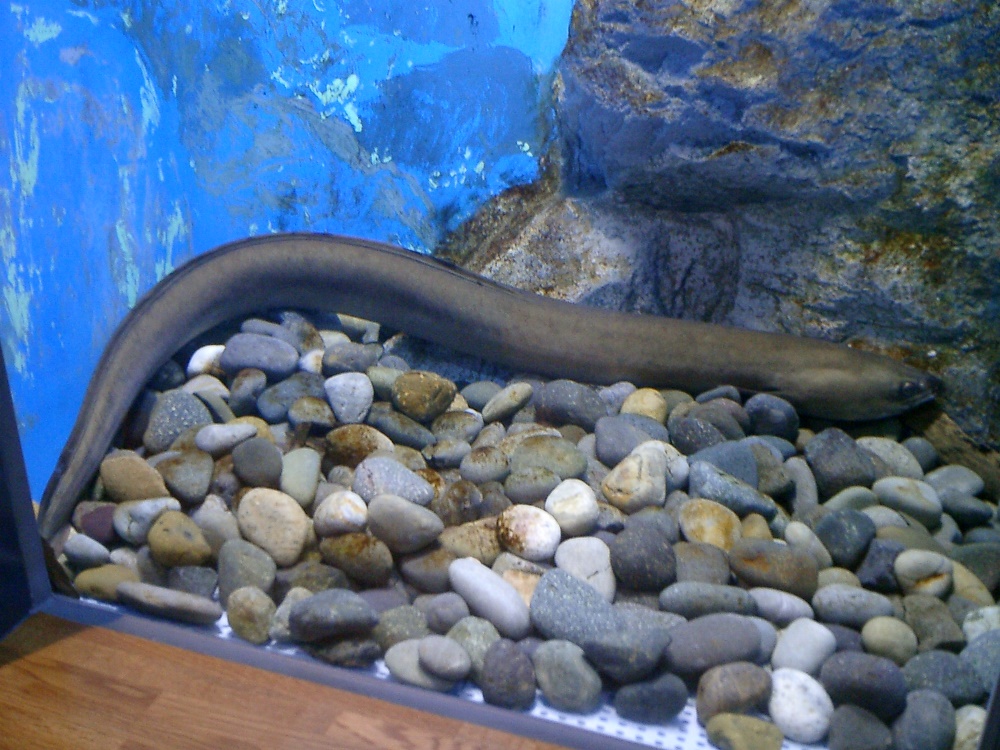 Savour the fragrance of one of Japan's classic dishes: Unagi, barbecued eel.
To the Japanese, unagi is a specialty handed down by their ancestors from the days of the Manyo, in the eighth century. Unadon, grilled eel on a bowl of rice, is one of the dishes chosen as Classics of Japanese Cuisine.
The certified quality of Isshiki's eel has made it the pride of our city. Along with Nishio matcha, it is one of Nishio's top-class regional brands.
All around Nishio, you can find restaurants specialised in unagi eel dishes. Please visit one of them, and try our Isshiki Unagi!
---
Hundred Years of Know-how and Passion for Eel
The port town of Isshiki in Nishio, Aichi, draws on a centuries-old tradition and hard work to produce its delicious eels. Famous throughout Japan, Isshiki Unagi is produced according to the strictest food safety standards.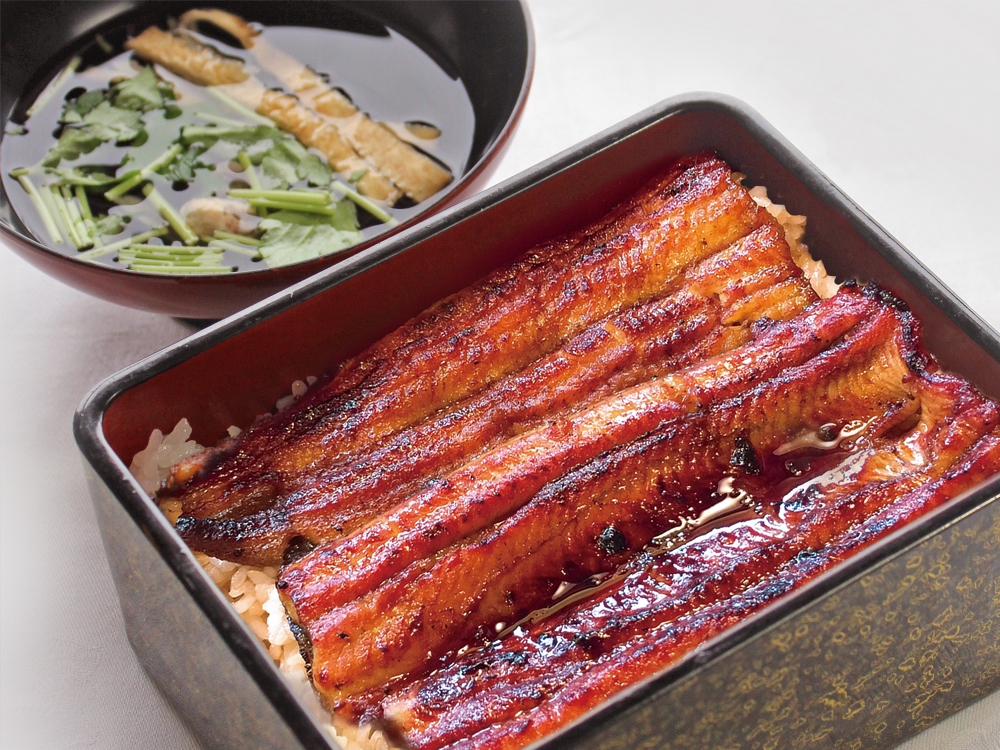 ---
Consistent Production from Fry to Adult Fish

To ensure food safety, Isshiki eels are closely monitored as they mature from small fry, called shirasu, to adult fish.

Thorough Quality and Safety Inspections

For safe production, chemicals are used in aquaculture. All fish are thoroughly tested for drug residue. We ship only certified clean and safe eels.

Clear Water from the Yahagi River

All the farming ponds in Isshiki use only fresh, clear water from the Yahagi River. Because our eels grow up in a natural environment, they enjoy healthy growth.

Soft Skin and rich Flavor guaranteed

In addition to the natural ingredients, Isshiki eels are bred under optimum water temperature and with quality feed. Cultivation of eels requires conditions as close to nature as possible. With ponds neither too big nor too small, our Isshiki eels are famous nationwide for their soft skin and rich, fatty flavor.
---
---

Eels have been raised in the warm waters of Mikawa Bay since the Meiji Era. Isshiki began exploring aquaculture in 1904 and rapidly expanded it in the wake of the Isewan Typhoon in 1959, when many flooded farms were converted into eel ponds. Glass-house based warm-water aquaculture has also been spreading since the 1940s.
---

Eel shipping in the Taisho Era of the 1920's

Eel shipping today

Eel shipping in the Taisho Era of the 1920's

Eel shipping today
---
---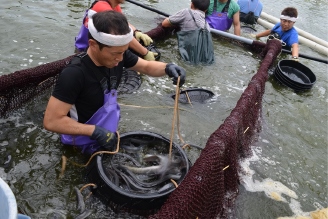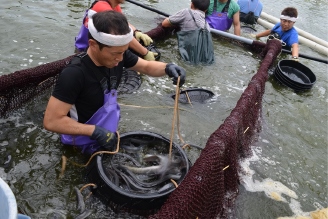 Isshiki eel shipped to the whole country
Summer is the peak season for eel shipments. Shipments of eels called "sukui" will begin in the water until about a month before the day of summer use. The live eel is packed in a basket called "Douman" and collected. They are then stored in groundwater for a few days to spit mud and tighten the fish and transported to wholesale stores and restaurants throughout the country.
---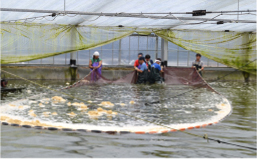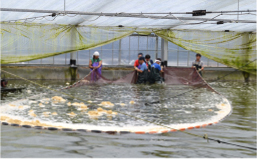 Isshiki produces about 20% of all the eel in Japan
Shirasu eel fry depend on natural resources. If they thrive, the season's eel production goes up as well. Of the 4.081 tons of eel produced in Aichi prefecture, 3.350 tons, about 80%, were produced in Nishio. Indeed, one in five eels eaten in all of Japan are from Isshiki.
---

After breeding in the sea, eels start swimming upstream at the end of the year and continue to do so until spring. Shirasu small fry are then caught and bred in aquaculture.

They are fed twice a day, once in the morning, once in the evening, until the fish reaches a weight of about 100 grams.
---

Adult fish of about 200 to 300 gram are then harvested by the pond owner and sold on to a wholesaler.

Eels are sold in five kilo batches of the same size and quality. They are then kept in sweet water for a few days, to improve the taste.

For shipping, eels are placed in ten kilo ice or oxygen bags and packaged in 20 kilo cardboard boxes.
Labelled shusui, Isshiki eels are shipped all around Japan.
---

Meet Manten-Kun
The mascot character for eels made in isshiki is Manten-kun. Man comes from the Japanese word for eel, and ten is heaven. You can find him on t-shirts and stickers or meet him at many events around Mikawa Bay.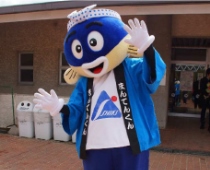 ---
---

Here is a list of restaurants where you can taste Isshiki Eels in Nishio. As eel is a seasonal product, please call ahead if you want to be absolutely sure it is available.
---
Unagi-Dokoro Isshiki
Meaty and fatty grilled eel from Isshiki, soft inside and crispy outside.
*Advanced reservations available
| | |
| --- | --- |
| Address | 176 Koyabu Funaehigashi,Isshiki-cho Nishio City |
| Tel | 0563-65-0141 |
| Hours | 9:00~ |
| Closed | Wednesdays |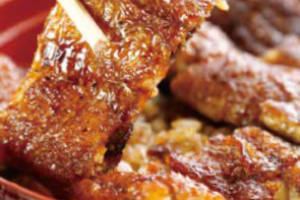 Hirai Unagi Restaurant
Premium eel fillets grilled with a refined sauce.
*A 10 minute walk from Nishio Station
| | |
| --- | --- |
| Address | 41 Kaisei-cho, Nishio City |
| Tel | 0563-57-2410 |
| Hours | 10:00~14:00 / 17:00~20:00 |
| Closed | Mondays |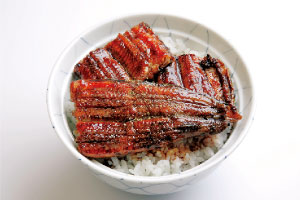 Unagi Kappo Mikawa Sansuitei
Enjoy eel from Isshiki,while viewing the garden.
*Advanced reservations available
Address
85-10 Sakatashinden Nishie, Isshiki-cho, Nishio City
Tel
0120-718-819
Hours
11:00~14:00 / 17:00~20:00 (November~March 19:00)
Last order 19:30 (November~March 18:30)
Closed
Wednesdays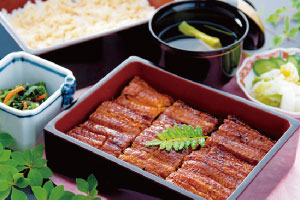 Unagi Yokocho Unagi no Kanemitsu
Try the reasonably priced and hearty unakimo donburi at this restaurant operated directly by the wholesaler.
*Advanced reservations available
*On-the-day reservations not accepted; please make a reservation at least one day in advance.
*Take-out available
Address
18-1 Isshiki Higashi Simoniwari, Isshiki-cho, Nishio City
Tel
0563-73-6688
Hours
11:00~14:30 (Last order 14:00)/17:00~20:00 (Last order 19:30)
Closed
Tuesdays (When Tuesday is a national holiday, the following day)
*There may be schedule changes during busy seasons, etc.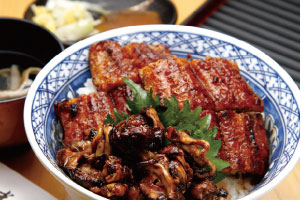 ---
| Store name | address | phone number | |
| --- | --- | --- | --- |
| Washoku Shiohama | Nishio-shi, Ishhiki-cho, Noda, Yorigami 54 | 0563-72-7999 | Details |
| Unayoshi | Nishio-shi, Isshiki-cho, Koyabu, Funaehigashi 176 | 0563-72-3789 | |
| Unagi Kappou Mikawa Sansuitei | Nishio-shi, Isshiki-cho, Sakata Shinden, Nishie 95-10 | 0563-72-8817 | Details |
| shunsai Wakaōji | Nishio-shi, Teradu, 3-11-1 | 0563-59-0177 | HP |
| Grill-rengatei | Nishio-shi, Teradu, 1-chome 8-15 | 0563-59-2282 | HP |
| Nihonryori Gyotora | Nishio-shi, Kamimachi, Yakushimae 1-10 | 0563-57-3044 | Details |
| Michi-no-eki Nishio Okanoyama | Nishio-shi, Ojima-cho, Okanoyama 105-57 | 0563-55-5821 | Details |
| France chūbou Noel | Nishio-shi, Hananoki-cho, 5-1-1 | 0563-54-7767 | Details |
| Sushi-Dokoro Kikuzushi | Nishio-shi, Nagayoshi, 3-chome ni ban-chi | 0563-57-2205 | Details |
| Tamagawa | Nishio-shi, Tokutsugi-cho, Myodaiji 26-1 | 0563-57-8400 | |
| Fukucho / Fukunaga-ten | Nishio-shi, Kira-cho, Yoshida, Aratame 127 | 0563-32-0112 | Details |
| Shokudokoro Kisen | Nishio-shi, Higashi-Hazu-cho, O-hira 63 | 0563-62-4284 | Details |
| Hirai Unagi Ten | Nishio-shi, Aioi-cho 41 | 0563-57-2410 | |
| Unagi No Kanemitsu | Nishio-shi, Isshiki-cho, Fujie, Jaike 30-3 | 0563-73-6688 | HP |