Isshiki Fish Plaza is a shopping street lined with shops and restaurants offering an all variety of marine products, including fresh seafood.

We recommend this market if you're after the kind of quality you'll only get from freshly caught seafood, at an affordable price. The street is lined with shops selling the region's famous eel, shrimp rice crackers, and fruit direct from producers, the pride of Isshiki's flavors all in one place.

| | |
| --- | --- |
| Address | 176 Koyabu Funaehigashi, Isshiki-cho, Nishio-shi, Aichi-ken |
| Business hours | 9:00am to 5:00pm, closed on Wednesdays (special holidays may apply) |
| Parking lot capacity | 30 buses, 200 cars |
| TEL/Fax | 0563-72-3700 / 0563-73-6600 |
| web | www.sakanahiroba.com/ |
---
---
Fishmonger Kanesu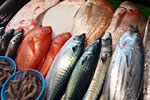 This shop offers the best catches of the day, serving fresh, cheap, and delicious seafood. Because it is located right next to the market, it is able to source fresh seafood at affordable prices.
It offers seafood specialties such as sea bream, conger eel, and scorpionfish, 70% of which is sourced locally. Especially in the Japanese littleneck clam season (from February to April), Japanese littleneck clams from Sakushima Island are shipped all over Japan.
The friendly, smiling master offers recommendations for the best seasonal specialties. Now offering takeout sushi on weekends only.
---
Fishmonger Yumemaru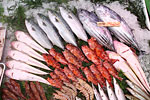 Yumemaru is proud to be able to offer their high quality freshly made dried seafood of the day. We recommend the sun-dried products!
The dried seafood seasoned with tamari soy sauce, made in house without using mirin to keep the sweetness to a minimum, is particularly popular.
Popular choices available year-round include amberjack and eel, as well as conger eel and horse mackerel. There is also a variety of fresh Mikawa seafood available, including sea bream, octopus, and basket clams (shijimi). Lively flatheads, fat greenlings, and Japanese tiger prawn swim about in tanks.
On weekends, deep-fried shrimp and deep-sea smelts are available for takeout straight from the fryer.
---
Fishmonger Hifumi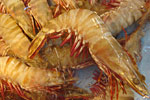 Enjoy the flavor of the fresh ingredients, sourced straight from the producer.
Shrimp boiled with salt are delivered every day from parent company Kotomi Fisheries, the largest wholesaler of shrimp in Mikawa. Seafood this fresh is only available for such low prices when purchased directly from the producer.
The salt-grilled wild sea tiger shrimp are to die for. The tender meat bursts in your mouth. Enjoy the natural deliciousness of shrimp and crab.
---
Processed fish food store Isoyamaki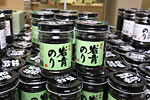 A fine range of products showcasing the bounty of the sea. The shop manager recommendation is chirimen (dried whitebait) caught in Mikawa Bay. Made by drying wild fish from Morozaki Port.
The salty-sweet flavor of rock nori seaweed is unbeatable, while the rock aonori seaweed and rock nori seaweed seasoned with real wasabi make the perfect accompaniment for rice. The spicy kick of raw octopus seasoned with wasabi is another popular choice.
There are plenty of options to choose from, including local specialty tsukudani (seafood such as shellfish boiled in sweetened soy sauce) and chirimen from Shino Island.
---
Processed fish food store Kaneri-Tsukudani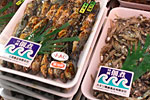 There are plenty of options to choose from, including local specialty tsukudani (seafood such as shellfish boiled in sweetened soy sauce) and chirimen (dried whitebait) from Shino Island. You can find all kinds of tsukudani here, from goby tsukudani to Kira young horse mackerel tsukudani to sardine tsukudani.
The Shino Island chirimen, new varieties of which are regularly sent directly from the factory on Shino Island, are another fresh product which has earned a loyal fan base.
Dried octopus, delicious whether roasted or added to rice, is a well-known local specialty.
---
Processed fish food store Mitsuba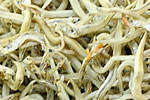 Delicious and packed full of the goodness of the seas of Mikawa. Known for its nori seaweed and other marine products, Mitsuba is one of the most well-established stores in the Plaza.
Mikawa nori has a rich aroma and is full of the goodness of the ocean. The Mikawa sand lance and chirimen are made using less salt, allowing the natural flavor of the fish to shine.
There are other delicious marine products available, including kelp(kombu), tsukudani, and dried seafood.
---
Processed fish food store Chinmi-no-Kaido & Totoraku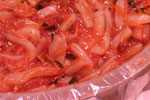 The products are made from natural ingredients with painstaking care as they were in the old times. There is popular "aonori seaweed tsukudani" made with Japanese Monostroma nitidum (green laver), as well as squid kimchi made from the mantle of the kisslip cuttlefish pickled in a special kimchi sauce, which goes great with piping hot rice.
There is also a range of high-quality shiokara (fermented marine animal entrails), including squid shiokara made with extra entrails for added depth of flavor, squid in pollack roe, octopus shiokara, and Alaskan pink shrimp shiokara.
With in-store tasting, you can try the delicacies of the sea route "Kaido".
The eel bento lunch boxes offered by Totoraku next door are also popular.
---
JA Nishi Mikawa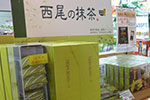 Fresh locally grown vegetables are shipped in daily!
A JA Nishi Mikawa store that sources ingredients directly from Isshiki producers. A range of fresh, quality vegetables from trusted producers are shipped in daily. Fresh flowers such as Isshiki's famous carnations and chrysanthemums, as well as nori seaweed and other dried food products are also popular.
There is a range of products made using Nishio matcha, which make perfect souvenirs. Soft-serve ice cream and other dairy products made from locally produced milk are another popular choice.
---
Fruit shop Marudaiseika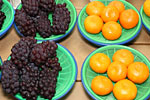 Fresh fruit shipped directly from producers both within the prefecture and beyond! This fruit shop brings a splash of color to the fish plaza.
Because it experiences warm weather year-round, the Mikawa region in Aichi Prefecture is a major producer of ornamental plants and fruit. After enjoying a meal of fish, seasonal fruit makes the perfect dessert to finish off with!
Fresh fruit from producers both within the prefecture and beyond, such as Anjo figs and nashi pears, Atsumi melons, and Gamagori mandarin oranges, are shipped directly from the producers.
---
Shrimp rice cracker store Ikedaya Seika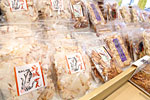 Authentic shrimp rice crackers made from top quality shrimp! The shop interior is stocked with authentic shrimp rice crackers. The most popular product is the baked shrimp rice crackers, chock-full of shrimp flavor.
The Lantern Festival Manju (steamed cakes filled with smooth red bean paste), named after Isshiki's lantern festival, are refreshingly sweet and moreish.
There are also jumbo grilled squid product demonstrations, it's a flavor you should try at least once.
---
Shrimp rice cracker store Houshoumaru-Iwaemon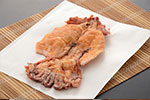 The special flavor is the result of the careful selection of ingredients and adherence to a specific cooking method.
The range of products includes shrimp rice crackers made with plenty of seafood and baked in Mikawa's traditional regional style.
The most popular rice cracker is Iwaemon, made with ground shucked shrimp and cooked on an iron griddle.
The aromatic squid and green shiso (green perilla or Japanese basil) is a popular choice amongst women.
---
Eel restaurant Unayoshi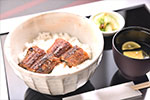 We simply offer the deliciousness you can only find in an eel producing area!
Isshiki eel from the pristine Yahagi River is a delicious eel, wonderfully fatty with tender skin.
Unayoshi is the place to savor the Isshiki eel with ease.
Run by fishery company Mikawa Tansuigyo, the restaurant offers a two slice "una-don" (eel on rice) for ¥980 or six slice "una-don" (one whole eel) for ¥2,460.
You can enjoy eel grilled in a soy-based sauce or without sauce for a reasonable price.
We recommend the take-out bowl of eel on rice "una-don"; which you can easily enjoy anywhere you like.
*Closed when stock runs out. Prices are subject to change.
---
Sushi Musashi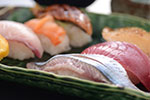 This sushi restaurant serving fresh seasonal seafood is so popular that it tends to sell out quickly.
Sushi Musashi has customers lined up outside more than an hour before it opens at 11:00 am.
Preparing seasonal fish for only that day with a particular focus on silver-skinned fish such as horse mackerel and chub mackerel. The freshness of silver-skinned fish is especially important!
The chef's choice set (with crab soup) for ¥1,800 draws crowds of eager customers.
*Closed when stock runs out. Prices are subject to change.
---
Restaurant Kaisen-an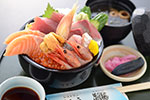 The kaisen-don (bowl of sashimi on rice) is a popular choice; generously topped with fresh products from the sea! The most popular one includes a choice of seven ingredients from a selection of fourteen local seafood options brought straight from the morning market for ¥2,350.
On weekdays, we offer special daily lunch sets with a limit of 20 meals per day, as well as "una-ju" Isshiki's specialty, broiled eel served over rice grilled to aromatic perfection, amongst other dishes that are chock-full of the flavors of the sea. We also offer catering for special occasions such as celebrations and Buddhist memorial services and accommodate to fit your budget. Group reservations are also available.
Seating consists of 50 table seats and 150 counter seats.
*Closed when stock runs out. Prices are subject to change.
---
Front office (information office)
We provide guidance for each store, and tourism information and so forth about the surrounding areas.