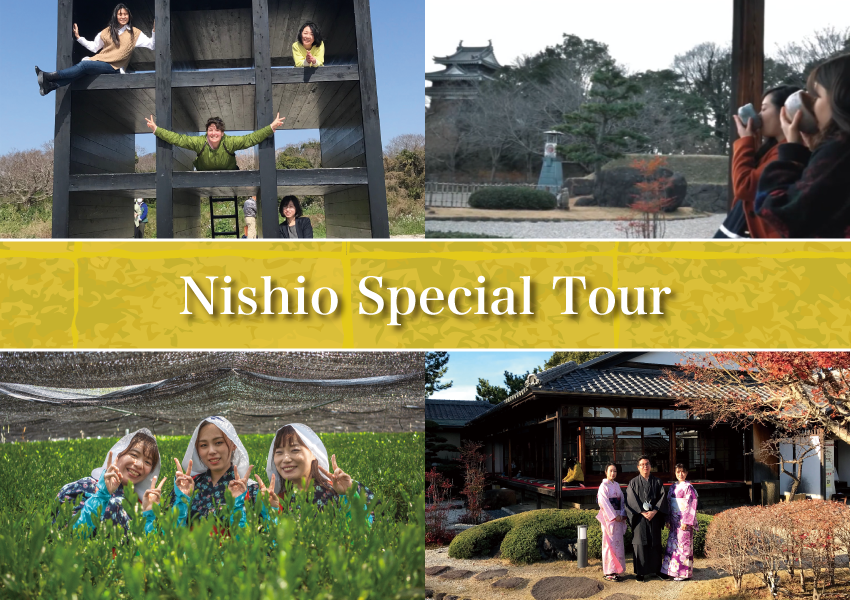 ---


---

---
Do you not do eco-sightseeing in rental bicycle?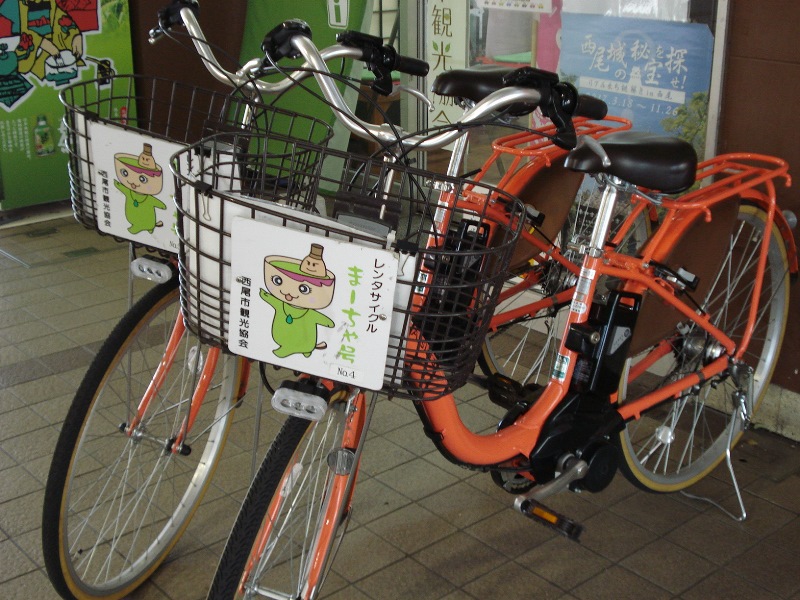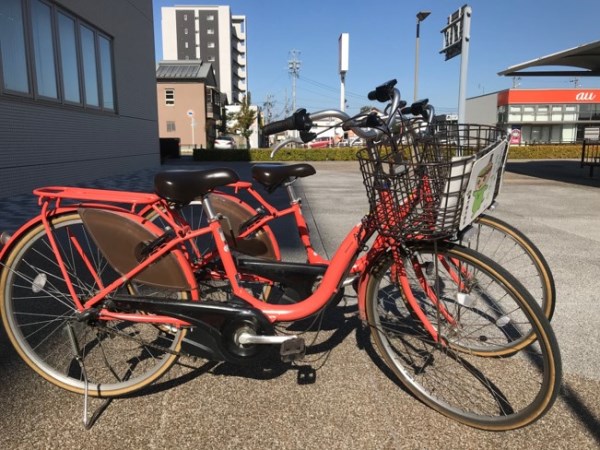 Why don't you go eco-tourism by renting a bicycle, starting from Meitetsu Nishio station?
Bicycles are available for rent at designated locations near stations.
There is a fee only for electric bicycles (at Nishio Station and Nishio Tourist Information Center).
---
Five Rules for Safe Cycling
① Cyclists should generally cycle on the road and only
 use sidewalks under exceptional circumstances.
② Cyclists should keep to the left side of the road.
③ On sidewalks, cyclists should give way to pedestrians and go slowly.
④ Observe the safety rules.
・It is prohibited to cycle under the influence of alcohol, ride with two people on one bicycle, or cycle two abreast.
・Use a light when cycling at night.
・Obey traffic lights and stop signs and check for safety at intersections.
⑤ Children under 13 years of age may not rent bicycles.
---
■ Rental Bicycle Usage Precautions (terms and conditions) ■
①Please do not share bicycles with others.
Lending or offering bicycles to a third party is prohibited.
②Be aware that leaving bicycles unattended may result in removal or theft.
Make sure bicycles are locked and parked in designated bicycle parking areas at each facility.
Please note that you will be responsible for any costs due to theft, damage, or removal of bicycles due to parking in undesignated areas.
③Bicycles can be used until 4:00pm.
Please return bicycles without exception on the same day of rental by 4:00pm to the location you rented it from.
In the case that the bicycle is not returned on time, you will be contacted by administration.
Please note that if you fail to respond, you may be held liable for the costs associated with locating and recovering the bicycle.
*You may be contacted if necessary in regards to the rental service.
④Rental fees are to be paid after use. (However, a payment guarantee of ¥500 (tax included) will be charged in advance. Charges will be settled upon return.)
The first 3 hours are ¥300 (tax included,) more than 3 hours is ¥500 (tax included.) Please indicate on the rental application form when you will start to use the bicycle.
A payment guarantee of ¥500 (tax included) will be charged in advance. Charges will be settled upon return. Thank you for your understanding.
⑤Regarding customer's responsibility for accidents
Any accidents which occur while you are using the rental bicycle shall be considered your own responsibility.
Please follow the five rules for safe cycling (see top of page) in addition to the rules of the road.
In the event of an accident, please promptly contact the police and the rental bicycle provider (see contact details below.)
⑥Regarding insurance (TS Mark insurance coverage/summary)
1. For the period during which the user uses the rental bicycle under the terms of this usage agreement, he or she is covered by insurance in accordance with the following conditions,and shall be provided with compensation for accidents incurred within the limitations described below.
(Damage resulting from willful or negligent conduct may not be covered.)
(1) Accident resulting in death or disability (maximum limit): ¥1,000,000; Hospitalization: ¥100,000
(However, in cases where death or disability occur within 180 days of the accident, hospitalization for a period of less than 15 days and outpatient treatment are exempt from coverage.)
*Insurance coverage is only active while the rental bicycle is in use. Compensation is provided for sudden and unexpected accidents.
(2) Maximum limit on compensation: ¥50,000,000; Property damage: not covered
*Insurance coverage is only active while the rental bicycle is in use.
2. Damages exceeding the compensation amounts above shall be covered by the user.
3. The user shall accept without objection that damages resulting from accidents not reported to the police or the office, as well as those occurring while the user is in violation of this contract, may be ineligible for compensation under damages insurance and/or our insurance program.
4. In addition to the provisions of Paragraph 3, if the conditions for exemption apply according to the terms of the insurance policy
(i.e. cases where the insurance company does not provide a payout), the compensation outlined in Paragraph 1 may not be available, and in such cases, the user is liable for full damage compensation.
5. This text serves only to provide a basic outline of compensation. While details may vary depending on the terms of your insurance policy, we suggest that you consult with your insurance provider for information about how to make an insurance claim.
*Using devices such as smartphones while cycling is prohibited.
*If your identity is unable to be confirmed, you will be unable to rent a bicycle.
*In some cases we may verify your cellphone number by calling it
---
Application Form for "Cycle Sharing" Use
Application Form for "Cycle Sharing" Use
---
Emergency contact
Nishio Tourist Information Office
TEL:0563-57-7840
Business hours:9:30am – 4:30pm
Nishio Police Station
TEL:0563-57-0110