Benten Salon
You can get all information about Sakushima here. It has restrooms, a small gallery and a museum. There are a number of artworks too.
| | |
| --- | --- |
| Hours | 9:00~17:00 |
| Closed | December 29~ January 3, Monday |
Nishikou Kangei daiko (West Port ferry Welcome drum Playing)
by Toru Matsuoka (2003) [Place : Benten Salon]
In this peep box work you can see the embankment in front of you, a fictional scene with the magnificent Sakushima drums that are indispensable to the island's festival. The work gives a sense of welcoming the arrival of many people. It feels as if you can hear the sound of the drums being played by the dynamic drummers.
---
Irelind in Sakushima
by Nekono Pesca (2007) [Place : Benten Salon]
There are 6 print works exhibited in various places around Benten Salon that are set in actual scenery from around Sakushima. Picture book illustrator, writer and printmaker Nekono Pesca has a fictional world called "Irelind" where humans and animals live in harmony. These print works are made with the concept that "Irelind" residents visited Sakushima." So if you walk around Sakushima, you may find the same scenes that are in the print works you see.              
---
Ooba Tei (Sakushima Island Vacant house Project/Ooba House)
by Goro Hirata (2002~2008) [Place : Inside the West Village]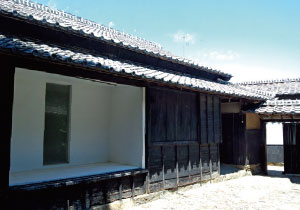 This traditional Japanese house named Obatei is over 100 years old. It has been renovated 6 times using traditional Japanese plastering methods making the whole house into a piece of art. If you apply at the Benten Salon you can see inside the house.
Inside there is a dirt floor (doma) with a "kudo" a traditional kitchen cooking range. In the rooms there is antique furniture, and you can even open the drawers. The artist's artwork is all around along with tableware that was once used in this house a long time ago. Since the structure of the rooms are still the same as they were many years ago, you can learn about the lives of the islanders from 100 years ago.
The rooms will automatically light up, so please leave the lights on when you leave. The garden is open all year round. You need to apply at Benten Salon to be able to go into the house (indoor visits are until 4:30 pm.) The stamp is outside the front door so you can use it even on Mondays (when the house is usually closed.)
You can get all information about Sakushima here. It has restrooms, a small gallery and a museum. There are a number of artworks too.
---
The traditional townscape of black-walled houses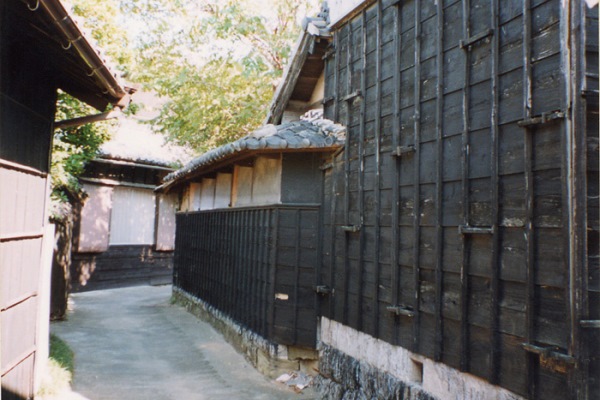 The traditional houses are called "kurokabe" because their walls were painted with coal tar to protect the wood from the salty sea breeze. Today, black paint is used. The houses are built close together, with many narrow, crooked streets to block the wind and to discourage pirates from entering the village. It's just like a maze.
---
Ohirune House (Nap House)
by Yuki Minamikawa (2004 Redeveloped in 2013) [Place : Shigake Coast]
This cube measures 3 meters each side and is divided into 9 individual rooms; it's an art piece where you can experience the sound of waves and wind, while taking in a square cutout view of the landscape.
Yuki Minamikawa is an architect. When he first visited this beach, he thought, "I'd like to take a nap here."(Ohirune means 'nap'.)" The black color of the work is inspired by the traditional black-walled townscape in the western district. Please be careful when climbing the ladders.
In the movie version of the manga (Japanese comic) "Detective Conan: The Shipwreck in the Sky" released in 2010, there is a scene where Conan and the Mysterious Thief Kid talk to each other here at "Ohirune House."
---
Kleingarten Welcome Space
by Toru Matsuoka (2012) [Place : Along Flower Road]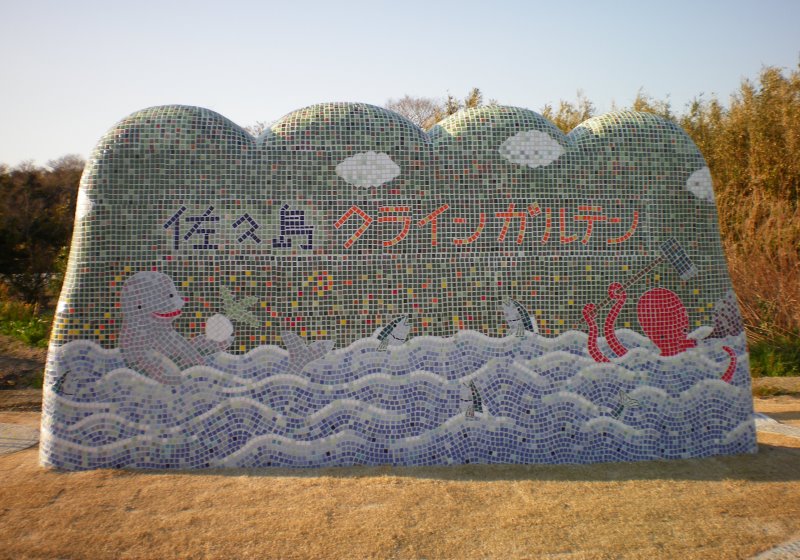 Kleingarten is an accommodation facility with an agricultural field.
At the entrance is a small park with mosaic tile chairs, a sundial and a mountain-shaped sign, all arranged along cute paths. Artworks by Toru Matsuoka, such as a clocktower with a sculpture, and a footlight indicating the Kobomichi entrance, are scattered around the grounds.
Kleingarten means small garden in German, or 'allotment' in English. There are 10 cottages called Laube, equipped with kitchens and bathrooms that can be rented as weekend houses for 500,000 yen per year. These Laube cottages are extremely popular; you have to have your name drawn in a lottery in order to be able to rent one. You can rent barbecue pits here for 1000 yen per day. There are restrooms available here.  
---
Non and Billy
by Toru Matsuoka (2003)
[place : Along Flower Road]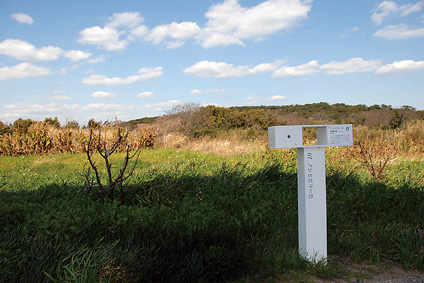 This is a hut for Non and Billy. Non and Billy are the names of two goats kept on Sakushima. Their job is to eat weeds and to greet visitors. There is an artwork on the Flower Road featuring them. They are the second generation of Non and Billy, the first generation appear in the artwork on the Flower Road.
Perhaps the goats being drawn so gigantic in the artwork is to depict that even with the island's decreasing population the goat's play an active role in taking care of the weeds for the islanders and prevent the islands vacant land from going to ruin.
---
Suwarutoko Project (Sitting Place Project)
by MIURA LAB (Architectural course, Faculty of Science and Engineering, Meijo University) (2008)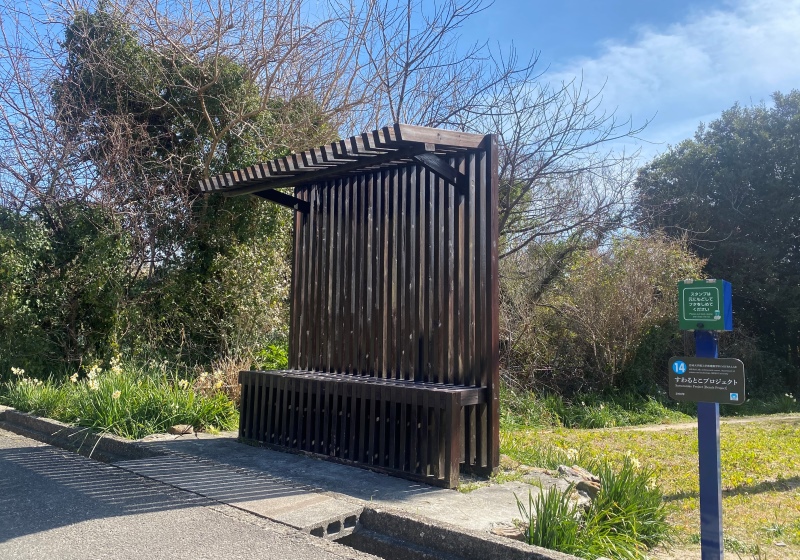 This was created for visitors and locals of the island by university students studying architecture. This piece was designed around the idea of a bus stop. There are no buses on Sakushima, but when you sit here, it feels like sooner or later a bus will appear.
There are two other different forms of these "Suwaru Tokoro" where you can do things like sit down, lie down, and enjoy the scenery. 
---
Kamome-no-Chushajoh (Seagull Carpark)
by Takahito Kimura (2005)
[place : Oura Beach]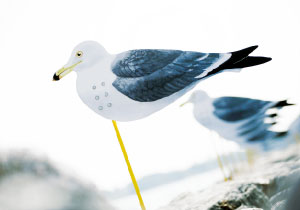 On Sakushima due to its thriving fishing industry and according to the season, one can feel familiar with the blowing winds which have many names here. Old names such as "kochi" for an east wind and "maze" for a south wind are still used today. The island people are sensitive to and perceive the different kinds of winds that those of us who live in modern cities don't really understand.
We can utilize this "kazamidori" (weathervane) that shows us the direction of the wind, through this artwork we can see the invisible wind.
Takahito Kimura is an artist who has a strong interest in the natural sciences, and this is strongly represented in his works. This artwork was born when the artist visited Sakushima and observed all the birds on the embankment facing the same direction.
---
East House
by Yuki Minamikawa (2010 Redeveloped in 2018)
[place : Ohshima Pier Pocket Park]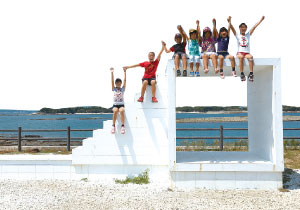 Since it is a house in the eastern district, it is called "East House." It consists of two different arbors built in the north and south and a long bench of 60 meters connecting them. The arbor on the north side has a simple frame and looks like a large window or picture frame. You can get to the rooftop from the stairs on the bench.
The arbor on the south side was redesigned in 2018 and it is considered to be a small version of "Ohirune House" (also designed by Yuki Minamikawa) on the opposite shore. It is divided into 4 spaces that you can enter and exit using a ladder. It is furnished with a U-shaped bench on the roof.
Unlike the simple Ohirune House, the East House has various additional features. The idea of bright "white" sunshine contrasts with the "Ohirune House." The East House's appeal is that you can discover its different looks depending on the season or time of day.
---
Sakushima-no-Himitsukichi/Apollo (Secret base of Sakushima Island/Apollo)
by POINT (Ben Nagaoka + Masahiro Tanaka) (2013)
[place : In front of Tsutsushima]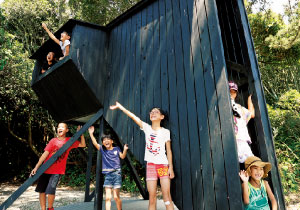 This is an architectural piece that appears on a cliff overlooking the Atsumi Peninsula through a tunnel of trees. The title of the piece is taken from the Apollo 11 lunar module "Eagle." As the architect, Ben Nagaoka said, "I wanted to make a secret base someday." This small building is an exciting place.
The view cut out through the window of the narrow entrance looks different from what you can see outside. Like a secret base other spy holes have been made. Downstairs is a space where you can lie down comfortably, here you can relax viewing the ocean and enjoy planning your next adventure. 
---
Kaijin-sama (Got of the sea)
by Toru Matsuoka (2003)
[place : Shonenji Tample]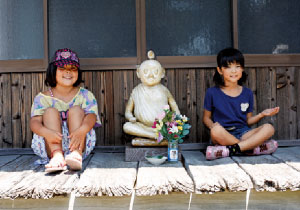 A somewhat humorous "Kaijin-sama" with a fish on its head. It is an imaginary fishing god created by Toru Matsuoka. This is an art piece, but countless people make monetary offerings to it. It's a small but popular piece.
Toru Matsuoka uses other representations of the sea god in his other works such as "Sakushima's Garden" and "Hidamari-an", so look out for them in other art works on this island.
---
Sora no Mizu-Yama (Water in the Air-Mountain)
by Noe Aoki (2008)
[place : Hakusan-sha Shrine East side]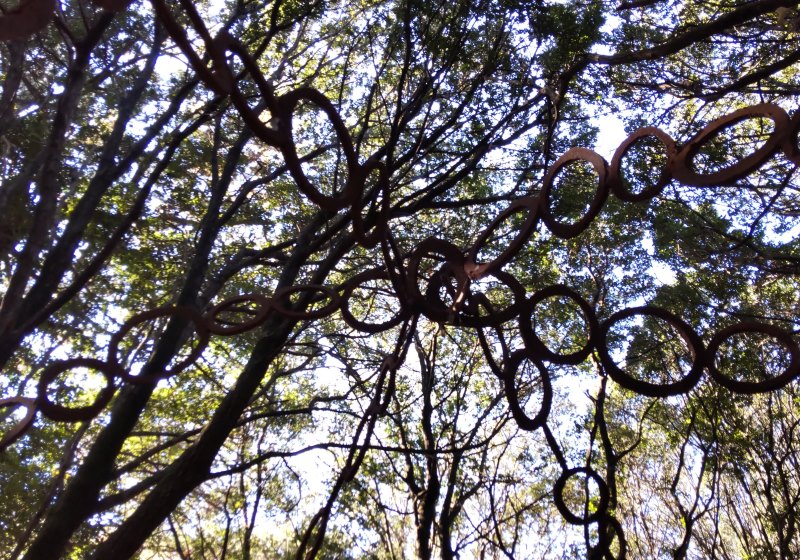 Located in a quiet forest, beside Kobo's little hokoras(shrines). Its shape is like a temple. The work will rust over time and become a part of the forest.
---
Kita-no-Ribon (Northern Ribbons)
by TAB (2015)
[place : Sotetsu-no-Hiroba]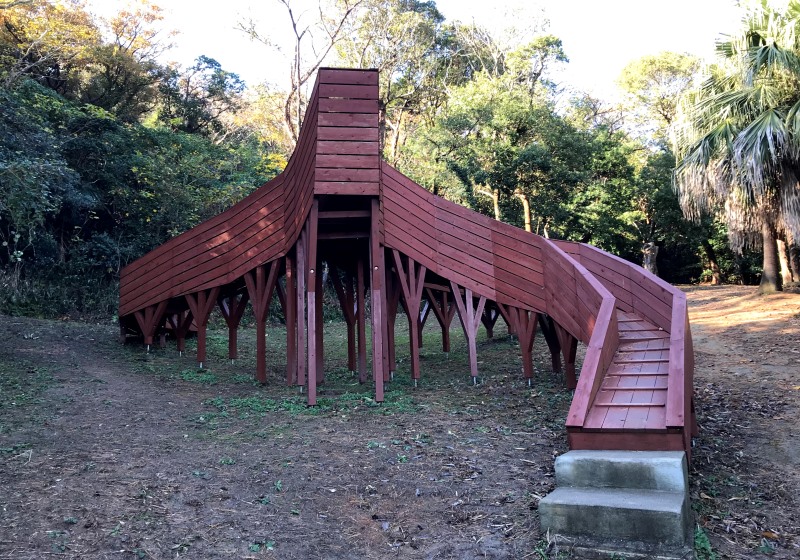 Located at the meeting point of the hiking road and the coastal course, this observatory looks like a sculpture. It lightly ties the forest, the ocean, and the sky like a ribbon. If you are lucky, you can see Mt. Fuji on a sunny day in winter.
---
Hidamari-an (Sunny-spot Gazebo)
by Toru Matsuoka (2015)
[place : Hidamari Hiroba Park]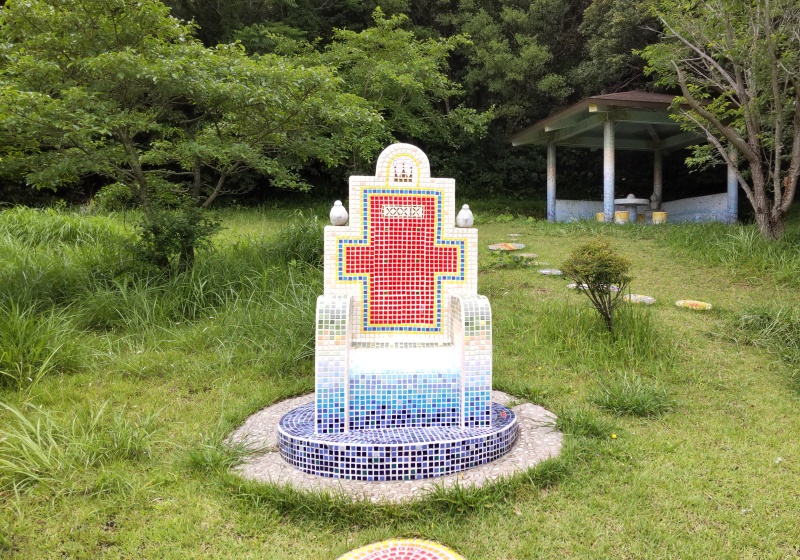 Renovation of a small park with an old "Azumaya"(arbor) and a bench. The old and dark arbor was regenerated by decorating the mosaic tiles as if it were painted. The Hidamari Square will continue to be made into art works in 2016, So please enjoy how the quiet small park in the forest changes little by little.
---
Hoshi-wo-omou-Basyo (Place to Think of the Stars)
by Yukari Araki (2017)
[place : Takachiya Coast]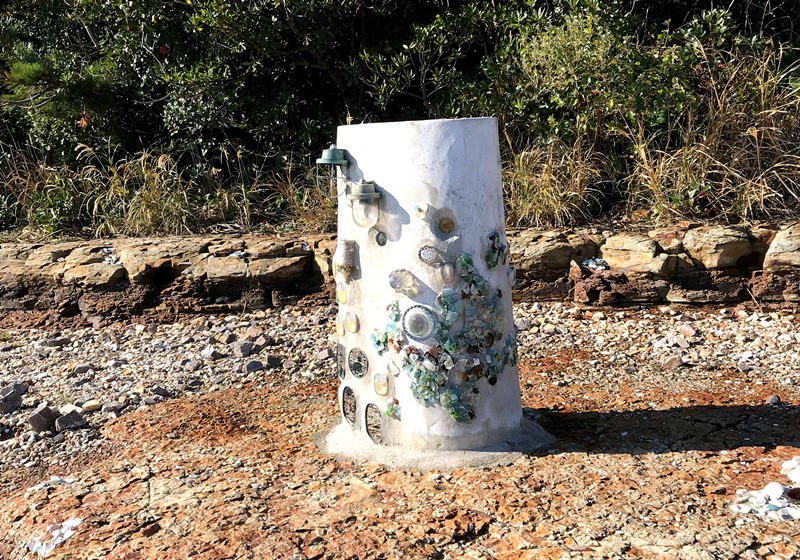 Yukari Araki's "a chair to think of the stars", which was installed in 2012, has finished its five-year exhibition period, and her new artwork was displayed on the Takachiya coast. Let's go to find a microcosm consisting of "star fragments" collected on the beach. It is beyond the space like a deep-water bottom.