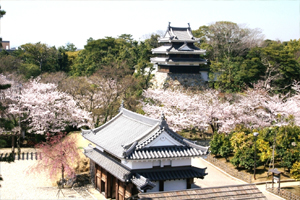 Nishio Castle's predecessor was Saijo Castle, which was built by Ashikaga Yoshiuji in the early Kamakura Period. Part of the castle property is restored in the Nishio City History Park. Visitors can enjoy the tower of the outer citadel, the inner citadel gate, the former Konoe House with its classic tea house design, a camellia garden, and Shokoso, a beautiful Kyoto-style garden.
---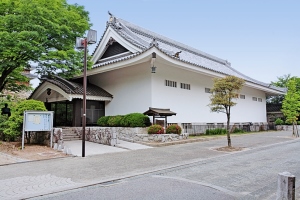 The Museum opened in August of 1977 on the Nishio Castle grounds. It has an extensive collection of items relating to local history and culture in the Edo Period. A site for research and study of ancient document through excavation, this museum offers a historical learning place for younger generations.
---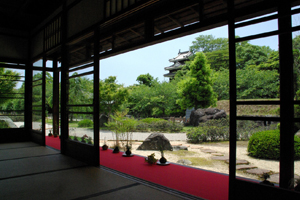 The former Konoe House (court noble Konoe's residence) conveys the culture of tea ceremony. It consists of two buildings: a tea house and a library. Both were relocated from Kyoto in 1995. Visitors can enjoy Matcha green tea and a view of the Japanese garden at the library (400 yen, including seasonal Japanese sweets).
---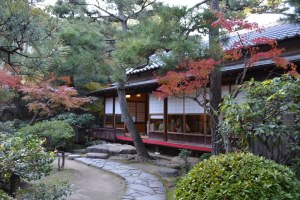 Shokoso is a Kyoto-style garden created by using the remnants of Nishio Castle's Higashinomaru at the beginning the Showa Period. This quaint garden includes an arbor on a hill with a full view of the garden and a beautiful dry landscape garden.
---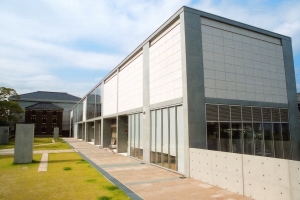 Established as a private library in 1908 by businessman Yasuke Iwase, the library was reopened in April 2003 as the first antique book museum in Japan. Archives are open to the public and preserve around 80 thousand books from various time periods and genres, ranging from classic literature—some of which are designated as important cultural properties—to modern "how-to" books.
---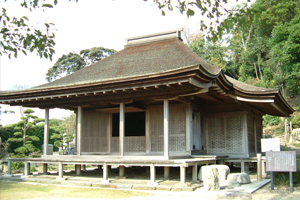 National Treasure・Konrenji Temple Midado

One of the Mikawa Seven Temples built by the order of Yoritomo Minamoto in the Kamakura Period, this is the oldest wooden building in Aichi Prefecture. Enshrined within the temple is Amida Sanzon-zo (the statue of Amida Triad), designated a Cultural Property by Aichi Prefecture.