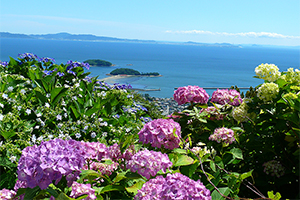 Mt. Sanganesan Sky Line (toll road) runs along the ridge of Mt. Sangane at an altitude of 350 meters. 70 thousand daffodils bloom here in the early spring, followed by 70 thousand hydrangeas during the month of June.
*Link to video web site:Nishio City, Higashi-hazu Beach Maejima Island tombolo
---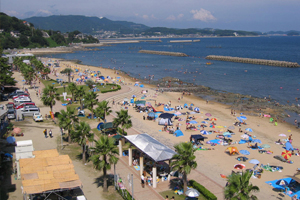 Beaches between Miyazaki and Ebisu Swimming Beaches are collectively called Kira Waikiki Beach, in reference to Waikiki Beach in Hawaii. Kira Waikiki Beach is lined with palm trees in a recreation of the tropical beaches of Southern islands. The beach is adjacent to the Kira Hot Spring Spa resort.
---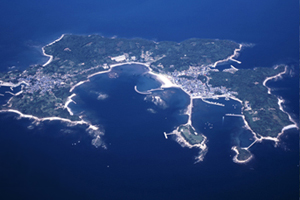 Sakushima Island is in a middle of the Mikawa Bay, a 20-minute ferry ride from Isshiki Port. It is about three times the size of Tokyo Disneyland. Sakushima is famous as "An Island of Modern Art," with art works exhibited all over the island. At Ooura Beach, visitors can enjoy clamming during the spring and sun bathing during the summer.